While the US domestic trucking market balances supply and demand, the situation is markedly different at the US-Mexico border. With a surging U.S. demand for Mexican manufactured goods and produce, there has been a significant increase in the volume and value of shipments from Mexican factories and farms to the United States. Furthermore, there exists a noticeable difference in available capacity between the U.S. market and cross-border operations. In this blog, we explore the resilience of cross-border trucking and why Tucker Company Worldwide is the ideal partner for your cross-border shipping needs.
Resilience in Cross-Border Trucking
Recent reports highlight the remarkable resilience and growth observed in cross-border trucking. The rise of new manufacturing enterprises in Mexico, fueled by nearshoring initiatives, is set to further enhance the flow of cross-border freight in North America. Tesla, a renowned Texas-based automaker, has emerged as a significant contributor to this trend by announcing its ambitious plan to construct a $5 billion electric vehicle manufacturing plant near Monterrey, Mexico. This strategic move serves as a catalyst for the ongoing boom and expansion within the Mexican market.
Why Tucker Company Worldwide is Your Best Choice for Cross-Border Shipping Needs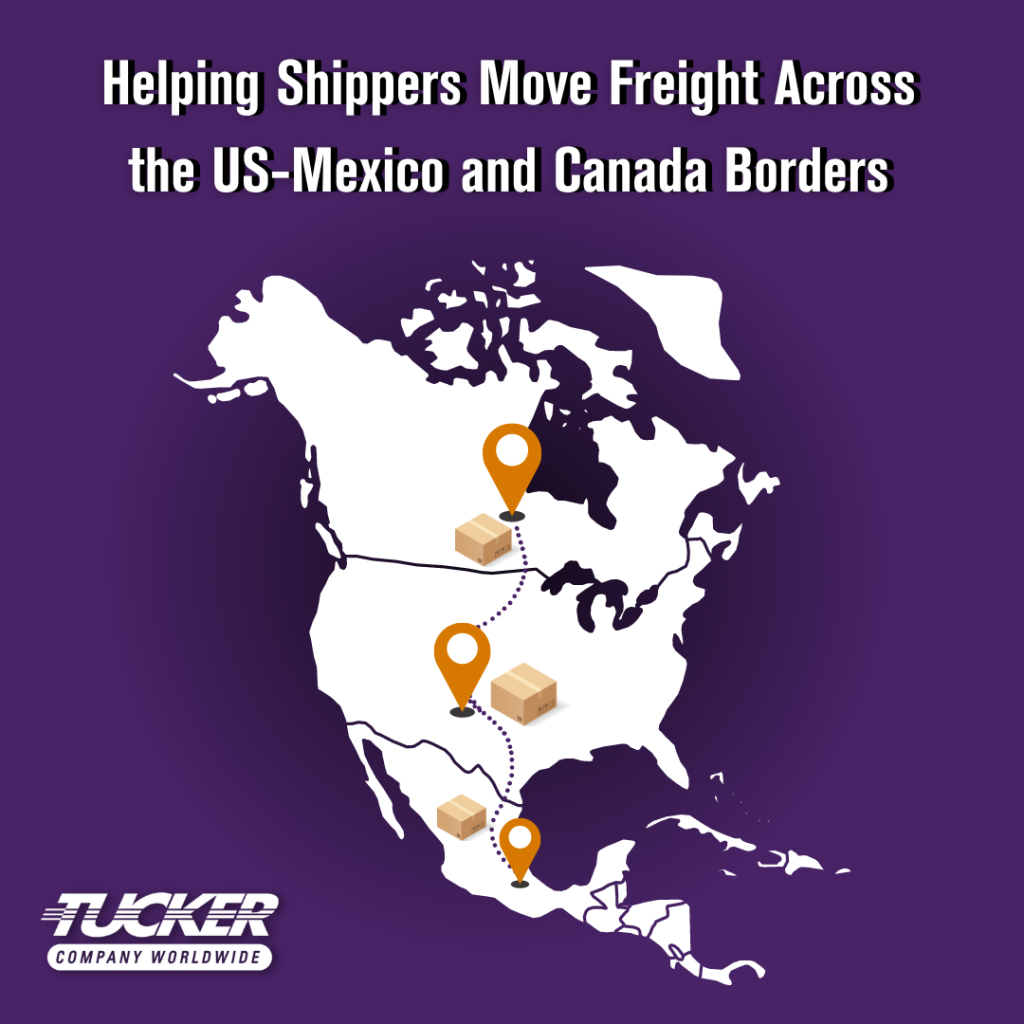 Recognizing the escalating demand, Tucker Company Worldwide has significantly invested in cross-border truckload freight services by applying more of our best-in-class, highly competent service offerings into this growing market across the US-Mexico and Canada borders. With our team of highly skilled industry experts and extensive experience in freight services, you can trust Tucker to deliver your shipments reliably and efficiently, ensuring peace of mind throughout the entire process.
Navigating the Complexities of a Borderless Supply Chain
At Tucker, we understand the complexities of establishing a borderless supply chain, even when markets are interconnected by land. Our deep knowledge of global trade regulations enables us to expedite the movement of products across borders, minimizing delays and streamlining processes for our clients. We are committed to helping businesses that rely on international trade make informed decisions by providing exceptional cross-border shipping services.
Tucker's Comprehensive Northbound and Southbound Service Offerings
Tucker Company Worldwide offers an array of services to cater to your cross-border shipping needs, providing comprehensive solutions tailored to your specific requirements. Here are some key aspects of our service offerings.
Experience and Expertise
With over 62 years of experience in the industry, Tucker brings a wealth of knowledge and expertise to every cross-border shipment. Our team is well-versed in the intricacies of the USMCA Free Trade Agreement, ensuring compliance and smooth operations for your international trade activities.
Network and Resources
We have established a strong network of carrier connections, enabling us to efficiently manage your cross-border shipments. We recognize that the right carrier can make all the difference in driving and ultimately determining the overall success of your project. That's why we follow a rigorous selection process to ensure that our customers are paired with the best possible carrier for their specific shipping needs. In addition, our warehouse and inventory management capabilities ensure that your goods are handled with the utmost care and precision.
Technology and Tools
Tucker leverages advanced technology and tools to provide 100% in-transit shipment visibility. With our advanced digital and GPS-based truckload visibility system, we maintain constant communication with our carriers at every stage of the transportation process. This enables us to ensure the timely and secure delivery of your goods. Our high level of visibility empowers us to proactively address any issues, including security breaches, as soon as they arise. This real-time tracking capability not only enhances security but also enables you to stay informed about the progress of your shipments at all times.
Customer Service and Support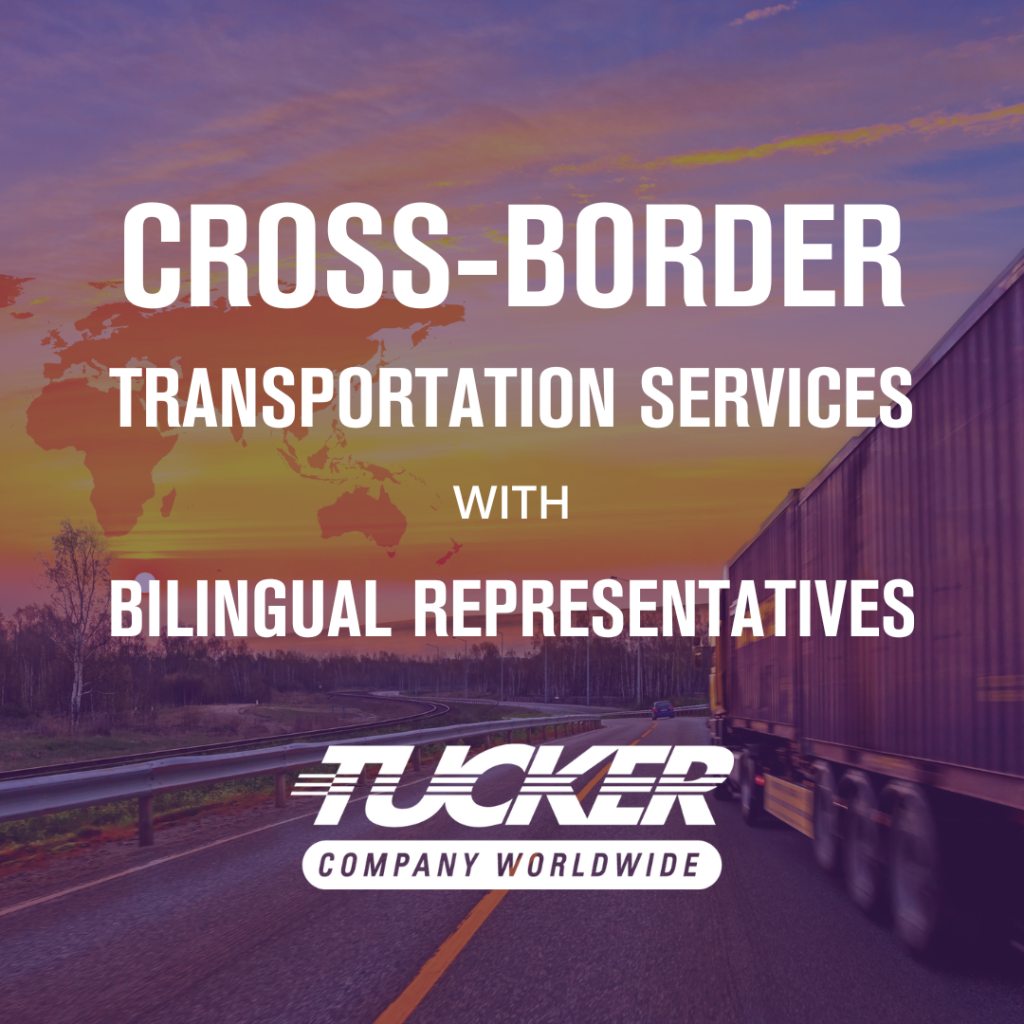 We take pride in offering exceptional customer service and support to our clients. Our dedicated team, along with your licensed customs broker, or one of our partners, is always available to assist you with your freight transportation needs. We understand the importance of effective communication and have a team of bilingual representatives who are fluent in multiple languages, further enhancing our ability to serve our clients. Whether you have questions, require guidance, or need assistance with your shipments or customs procedures, we are here to help. Our commitment to providing 24/7/365 shipment support ensures that your concerns are addressed promptly and effectively.
Customs Compliance and Classification
Tucker Company Worldwide understands the importance of customs compliance when it comes to cross-border shipping. We conduct thorough audits, including physical inspections of goods against invoices, and review characteristics and composition for pre-classification purposes. Our comprehensive customs compliance analysis guarantees that your shipments meet all necessary requirements. Additionally, we prioritize cybersecurity to ensure the confidentiality and integrity of your data and transactions.
With the remarkable resilience and growth observed in cross-border trucking, coupled with the increasing demand for manufactured goods and produce, we are fully equipped to handle your shipping needs. Our extensive experience, expertise in global trade regulations, and commitment to customer satisfaction make us the ideal choice for navigating the complexities of a borderless supply chain. From our comprehensive service offerings to our advanced technology and dedicated customer support, Tucker is here to ensure the reliable and efficient delivery of your shipments across the US-Mexico and Canada border. Experience the difference with Tucker Company Worldwide and unlock the full potential of your cross-border logistics.
Contact us today, and let's discuss how Tucker can assist you with your cross-border shipping needs.