HADDONFIELD, N.J. – Oct. 30, 2023
Tucker Company Worldwide, the oldest privately held freight brokerage in North America, announced today the passing of its 2nd generation CEO and freight transportation industry leader, William J. "Bill" Tucker, at 85. He is survived by sons Jeff and Jim Tucker of Haddonfield, and his six grandchildren, Anna, Jacob, Suzanne, James, Kathryn and Megan. His beloved wife Barbara passed away in 2021. He was an avid golfer, reader and writer.

Born May 18, 1938, in Norwood, PA to Jacob and Ruth Tucker. Bill was a drummer in a jazz band in Philadelphia, paying his way toward a B.A. from Temple University in 1961. After seeing John F. Kennedy on campus in 1960, he was moved to join the first class of the Peace Corps, serving in the Philippines. In 1971, after his father's death, Bill left a promising career as a computer programmer to acquire Tucker Company and earned his master's degree in business. Throughout his career, Bill cemented a legacy as a trailblazer in the transportation industry.

Bill played a pivotal role in the trucking deregulation movement both nationally and locally, advocating for, and educating those in the industry. In 1978, just as deregulation was taking hold, he co-founded the Transportation Intermediaries Association (TIA), a trade association and community of third-party logistics organizations that continues his legacy of advocacy and education. At that time there were a few dozen brokerages in America and today there are over 20,000. He co-created TIA's Certified Transportation Broker (CTB) program, through which thousands of individuals have been certified. In 2001 he received TIA's Heritage Award for distinguished lifelong service. He was Traffic Club of Philadelphia's Transportation Person of the Year in 2004, shortly after retiring.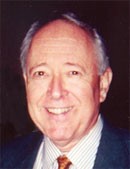 Bill was an enlightened business owner and built a safe culture at his company, subscribing to Hal Rosenbluth's philosophy, "The Customer Comes Second," where you hire the best people and treat them well, and they'll take care of your customers. Whether one was an employee, a customer or a supplier, Bill sought to build trusting relationships. Jeff Tucker, CEO of Tucker Company Worldwide, stated: "To this day, I have not met anyone who worked as tirelessly and selflessly as my dad. He was equally focused on lifting an industry as he was in growing his company." Jim Tucker, President of the company, shared "though he was considered a true pioneer and expert in his field, he was a man of the utmost humility, who always referred to himself as a mere 'student of industry.'"

While we mourn the loss of Bill, we also celebrate the enduring legacy of a visionary leader and look ahead to the future, continuing to uphold the high standards of service that he set into motion. Funeral services by Kain-Murphy Funeral Services, Wake and Funeral at Our Lady of Good Counsel, Moorestown, NJ: 10am wake and 11am mass, Saturday, November 4. In lieu of flowers, the family asks for donations to be sent to the Alzheimer's Association of Delaware Valley (alz.org/delval).


About Tucker Company Worldwide
Tucker Company Worldwide is the oldest privately held freight brokerage in North America, specializing in notoriously critical freight, like temperature-controlled, oversized, and high-value, high-security shipments. Freight security and quality processes and procedures are at the center of the business, evident by its ISO 9001:2015 certification and underlined by its meticulous approach to carrier selection. Learn more about the Tucker difference at
tuckerco.com
.