Ronald Reagan was a first-term President; the Orioles would beat the Phillies in the 80th World Series; the Senate established the Martin Luther King, Jr. federal holiday, Hill Street Blues and Cheers won Emmys; Michael Jackson's "Thriller" became the bestselling album of all time in the U.S.; but most importantly, Tucker Company got a whole lot better!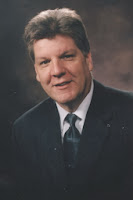 On September 7, 1983, Gene Wherrity took a leap of faith in joining our small 23 year old, business, after working for a large oil company and a large food manufacturer. Deregulation of the trucking industry had just taken hold, and both Tucker and the brokerage world were growing rapidly. During the 1980s, Tucker transitioned from purely flatbed, heavy-haul and over-dimensional to a healthy mix of dry van, reefer, flatbed and all varieties of surface transportation.
On September 7, 2013, Gene became the second-ever Tucker staff member to reach 30+ years of service (second-generation president, Bill Tucker, worked longer, at 32 years of service — but Gene's closing in). Gene's steady, levelheaded, can-do attitude has served Tucker, our customers, our carriers and our people extremely well through the years. Gene is an exemplary leader and a professional in every sense of the word. Please join us all in wishing Gene heartfelt congratulations.