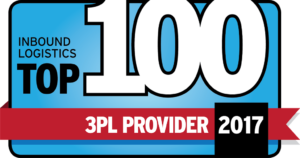 INBOUND LOGISTICS' TOP 3PL DISTINCTION
TUCKER AWARDED INBOUND LOGISTICS' TOP 3PL DISTINCTION IN 2017


Inbound Logistics editors informed Tucker that we've once again earned a spot on their "Top 100 3PL" list in 2017. This marks 17 years of consistently being ranked among the top. In an industry with nearly 16,000 licensed 3PLs, that's some rarified air.
From Felecia Stratton, Editor, Inbound Logistics: "Tucker Company Worldwide  continues to provide the logistics, transportation, and supply chain solutions Inbound Logistics readers need to achieve the visibility and control that drives successful supply chains. Tucker is flexible and responsive, anticipating customers' evolving needs. Tucker deserves recognition for providing the innovative solutions empowering logistics and supply chain excellence in 2017."
On behalf of our company and all of our tremendous staff, our CEO Jeff Tucker thanked Ms. Stratton and the editors at Inbound Logistics, as well as our customers and carriers who value what we do. As our company evolves from a traditional transportation service provider to a data-centric, organizational behavior modifying 3PL, we appreciate the recognition of our team's hard work.